Opening Moments partners with seasoned, event production industry professionals to create visually exciting, memorable events that return value and increase performance. Our comprehensive, event management services include rehearsing with your key presenters, designing custom graphics and motivational videos and connecting you with motivational speakers - all designed to engage audiences to dramatic effect, while delivering if not exceeding desired results.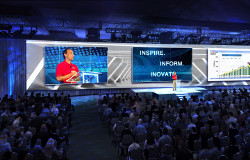 Microchip MASTER's Wide Screen Event Production
Microchip hired Opening Moments to produce an 80' X 20' wide screen for a 2-day general session featuring a motion graphics walk in as well as PowerPoint & IMAG.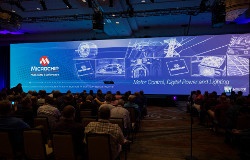 Custom Motion Graphics Design for Microchip
Opening Moments was commissioned by Microchip to design an 80' X 20' motion graphic to kickoff the MASTER's conference. We incorporated wireframes of products that feature their microchips, which looped for 30 minutes during walk-in.
Large Event Production Delivery
We deliver large events, as evidenced by this photo: a 2000+ guest event - 4 full screens & deft staging - fully engaging all in attendance.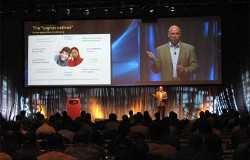 Successful Event Production Planning
We take into account the room, audience size & content for National Sales Meetings: critical factors in successful event production & planning, evidenced in this theater-like, 750 attendee presentation.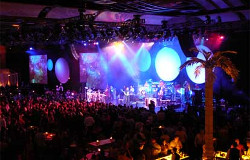 Major Event Production Expertise
Superstars Earth, Wind & Fire performed for our pharmaceutical client - our planning made for a seamless & unforgettable experience for 2200+ guests.