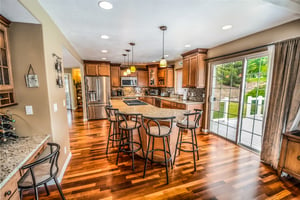 One question that I get asked often is, "How much does it cost to make a video?" Well, that's a great question, and I'm glad you asked! Clients often want a straight forward answer, like, "it's $2,000 per finished minute", or it's $25,000, or, "Here's my rate card". In order to answer that question, may I use an analogy? Buying a video is similar to buying a house, i.e. not all
houses cost the same. For example, a 1,000 square foot condo, a 3,000 square foot two story house, and a 10,000 square foot house with a 5 car garage and pools, lush landscaping and waterfalls do not cost the same. It's the same with videos. There are essentially 5 factors that determine the price of a video: length, talent, crew, gear, and location. Let's dive into each.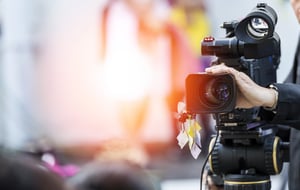 Before we get started, for the purposes of our discussion, we're going to narrow the playing field a bit, since the scope of producing a video is all over the board, from broadcast commercials and national talent ($400,000+) and major motion pictures ($1M+) all the way to YouTube videos on a webcam that your nephew produces (free to $2,000). For the purposes of this article, I'm going to focus on documentary and corporate video, and yes, I'm going to stick my neck out on the price range of $9,000 - $75,000.
Wow, you say, that's a huge variance in a price point! Yes it is. And below are five reasons the rate will vary:
1. Length: Let's compare three lengths of video that have totally different purposes: a) 10-minute training video, b) 10-minute international documentary, and c) a 3-minute motivational video. Is there such a thing as a "rate per minute" for each of these types of videos? No, not across different types of video. Below are a couple of differences that drive the cost per per minute: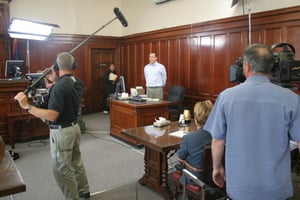 10-Minute Training Video: in many cases, it takes multiple days of camera and talent work to produce a 10-minute training video. In the case with a video we produced for the Arizona Supreme Court, it took 2 days of shooting: one day for deliberation scenes, one day for man on the street interviews. The crew has six people: Producer, Camera, Audio Technician, Lighting Tech, Editor, and Audio Studio Tech. The gear would include 2 camera's, tripods, audio and video recording devices. Then add 16 hours for editing to includes graphics, and the rate would come in close to $25,000, or $2,500 per minute.
14-Minute Documentary. This requires a crew of 7: Producer, Cinematographer, Writer, Translator,
Transcriptionist, Editor and Audio Technician, plus volunteers. International production requires quite a bit of pre-production, as well as airfare for the Producer and Cinematographer, most likely 2 different trips; once to scout the area, once for the actual shoot. Then add modest rooms, meals, country Visa's, immunization shots, camera gear, audio gear and digital backup, plus 14 days of logging and about 6 days of editing, all for $42,000. When you divide $42,000 by 14 minutes, it's $3,000 per minute.
3-minute Kickoff Video. This requires a crew of 5 (Producer, Videographer, Writer/Creative Director, Editor, Audio Technician); often there's stock

footage that was provided by a colleague or purchased from stock library, as well as licensed library music, plus 16 hours of editing including motion graphics, all for $9,000. So, $3,000 per minute.
Are you getting the idea that you can't set a per minute rate across different types of video? Which per minute rate is correct? Well, they're all correct for the type of video that they represent.
A large part of the budget comes from the size of the crew, which requires planning, capturing, then editing, which is referred to in industry vernacular as pre-production, production, and post-production. The good news is that an experienced production company provides a line item estimate for all the project costs ahead of time, so there's no surprises! What's in a crew?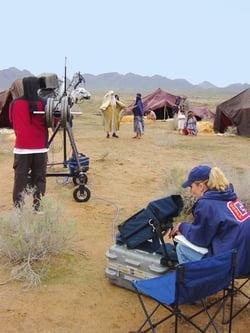 2. Crew: The smallest crew is going to consist of one person who does everything: Producer, camera operation, audio, lighting and editing. This is the proverbial "one man band" who plays his own accordion, harmonica, drum and symbols! This may work, but that guy is wearing a lot of hats! I recommend at least 3 people: 1) The Producer orchestrates all the components for overall messaging, and acts as a General Contractor for the project. On smaller projects, the Producer also takes on the roll of a Director who directs both the talent and camera crew. On medium and larger projects, it's often two different people.
2) A Cameraman/Cinematographer captures wonderful composition, color, and content. On a small production, the cameraman is also responsible as the Audio Engineer, listening to the talent and making certain there are no outside noises like airplanes, barking dogs, buses, and sports audience cheers in the background (unless you want that). On smaller productions, the Cameraman can also act as Lighting Technician, who makes certain that the talent is not only well lit and natural looking, but also helps eliminate hot spots. In a small crew situation, the client needs two additional volunteers: one to ask the questions of the talent, and another to hold the lights or reflectors.
3) An Editor is the third essential crew member -- who also creates motion graphics, audio balancing and basic color correction. If you're looking for Character Generation (CG), making people fly or do things they normally can't do, that's generally a small additional team that specializes in that. And, if you want to rotoscope background elements and add in other backgrounds, that's a Colorist specialist.
As you can see, with a three person crew, each person must wear many hats!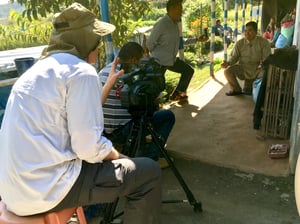 Let's jump back to the Documentary video. Even though it appears that all the work is being done by a Cinematographer who sometimes doubles as a Producer, there are other roles that are equally important. For example, to use the house construction analogy, a builder needs a blueprint. In video, best practice requires starting with a script or creative sketch. 4) A Script Writer lays down the spoken words or graphics and images. A Writer will work together with a Producer and often with the client regarding the messaging from the talent. If you're working on an International Documentary with talent that is not English speaking, the crew will require 5) Interpreter and then later 6) Transcription, which often involves a bi-lingual crew member who can listen and interpret. There's also 7) Voice talent. For instance, in Nepal, we had English speaking Nepalese doing the voice over; this gave them the feel of the Nepalese accent in English. From the transcription, the Producer and Writer will select the sound bites and shots that best tell the story. Then an 8) Audio Engineer will add filters so that the voice is clear and easy to understand, minimizing ambient noise. Good lighting is key, and often a 9) Lighting Technician/Gaffer is used.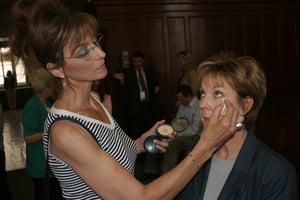 Stepping into a corporate production, in addition to the team above, you'll have a 10) Make Up Artist who can help relax people and remove shine from skin and make other features look natural. We always have a 11) Grip, the person who sets up and tears down all the gizmo's like lighting stands, flags (not the country kind, but those that prevent light from spilling places that you don't want). We captured the Arizona Supreme Court Justice using flags to keep the background light from spilling on to our Judge. On larger budgets, you'll have a 12) Production Assistant to help with logging and consistency throughout; this person makes certain that, for example after a lunch break, the talent hasn't put on a jacket, so that they look the same in all shots. And you may have wardrobe and camera assistants. That's a crew of 12 plus, each with a day rate!
So, how do you know when you have enough crew? The amount of work that each crew member does will be driven by the budget. Crew size depends on how complex the locations, how many days, and what type of scenes (i.e. with a Gimble to bring motion to scenes, this may be a specialist, in addition to your cinematographer). Let's look at what gear is required.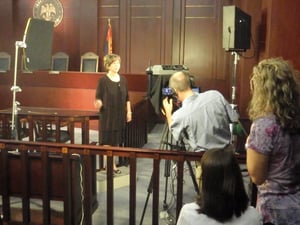 3. Gear is generally a separate charge in addition to the crew that will operate it. For example a cameraman has a day rate, and the camera and tripod will be a line item in the budget. A Producer is going to need a monitor to see the scene. And a Lighting Technician will require lights, an Audio Tech will require wireless or wired lavs or mics, along with recording gear. In addition, there will be supplies that often come in a grip truck... things like C-stands, electrical cables, lighting flags, etc., all things that fit in a small trailer, but they're essential to have on site for various lighting and camera challenges, to get the best shot. If the program uses voice over, you'll want to add an Audio Engineer in the Studio into the production budget. In addition, with an Editor there's an Editing System complete with the latest Adobe Creative Suite. Most gear is rented on a Day Rate.
4. Talent: There are industry standard fees for professional talent (actors & actresses, as well as voice talent) to address your audience. Even though non-professional talent is often used, I always recommend professional Voice Talent. Talent can be hired by the Production Company, or auditioned through a Talent Agency. If you're doing an international video, there will also be Translation, Transcription, as well as English Voice Over. For example, on a recent Documentary in Nepal, I took a translator with me to assist with all the interviews, who translated each interview on site by memory, so that I generally knew if we captured the sound bite listed in the script. Then when I came back to the USA, I sent the same clip to the translator again to translate word for word into English. For English interviews, I sent them directly to the Transcriptionist.
5. Location: If you have a shoot that is outside of your town, sometimes it's more economical to hire local camera people, and fly only the lead Producer. For example, for Westcon, our theme was bridging technology, so we shot three videos in front of three famous bridges: London Bridge, Sydney Harbor Bridge and the Golden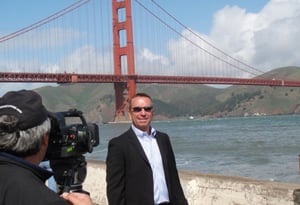 Gate in San Francisco. We flew our Producer Ginger and hired a local camera professional in each location. Why do we recommend flying our Producer? For consistency in the angle, composition, the look as well as having a person who can ask questions and navigate with the talent. In our case, we had 3 different C-Level Execs in front of the bridge. Our team has captured videos on most of the 9 continents worldwide, most often sending our Producer and Cameraman. So, getting back to the budget, that's two airfare tickets, per diem, travel Visa, and for international Documentaries in Nepal, we hired a vehicle and driver to get around on the narrow mountain roads. Incidentally, often the best production company is the one who understands your vision for the video, and the production team is not always local.
So, back to the original question. How much does a video cost? Well, there are many variables in the length, talent, crew, gear, and location, but now you know what those variables are! Many Documentary and Corporate Videos will fall in the range of $9,000 - $75,000, but some might be much more! The good news is that a professional production company will line item these for you and provide that budget so that there are no surprises. Click below for the spreadsheet template that we use at Opening Moments Media for most Documentary and Corporate videos.
Opening Moments Media Video Production Worksheet Template
By the way, if video production is unfamiliar territory, then this blog on 5 Steps to Creating a Video is worth a look!