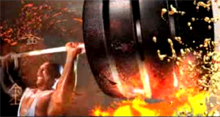 The Bejing Olympics featured a fantastic animated commercial produced by Creative Agency BDA Singapore; exciting action and motion graphics!
This type of animated motion is tremendous for conveying emotion, designating specific locations, exuding excitement, adventure, and a deep sense of anticipation.
The team at Opening Moments can assist with vivid imagination that's required in visualizing the animation for your own project. See the animated super-hero sales meeting motivational video that our creative team visualized for Verizon Wireless. Use the coupon below for a free creative consultation (1 hour) and $100 off the production.