With a design team that includes production designer Mark Fisher, lighting designer Marc Brickman, and creative director Sean Evans, Roger Waters' The Wall 30th anniversary tour set is a facsimile of the 1980 version, with a bit more projection this time around.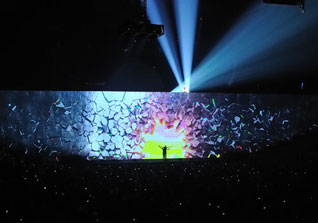 Mark Fisher says the goal of restaging this show, which hadn't been performed in 30 years, was to "recreate the original show, but also to add to it using present-day video technology in place of the 35mm film projection that we used back in 1980."
"With a show such as this—a single immense canvas, which is a continuous, locked timeline—the video programming is essentially done to the cut of the content, so the edit stage is the programming stage," says Richard Turner, screen technical director for the tour. The content, created frame for frame to the incoming timecode from the band playback (operated by Mike McKnight), is locked, cut for cut, for edge of frame accuracy.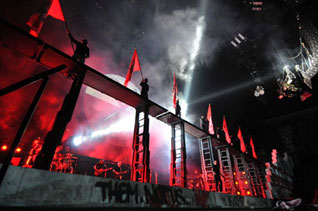 The 26-truck production featured an iconic circular screen, seamless HD output 240 wide X 30 foot high, along with a 30' rear-projected circular screen -- for a total of 15 projectors on the wall and up to five units overlaid for the circular screen overhead.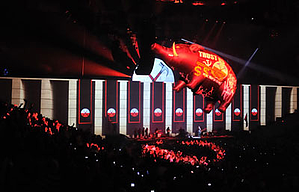 Even the enormous puppets, based on animated characters from the film and created by Brilliant Stages, are lit by the projections.
Forestage luminaries, focused beams of light, searchlight effects, backlighting effects, and heavy foggers create an experience to be remembered.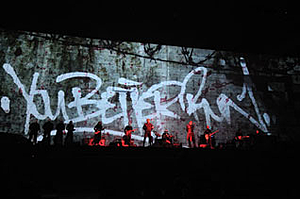 For more on the technical aspects of projection, lighting and technical direction, along with additional pictures, see Live Design Magazine. Photos provided by Stufish.
Looking for innovative staging ideas for your corporate event? Contact us for a free creative consultation.