Just another teenager with low expectations? Not hardly. At 19,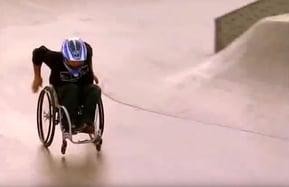 Aaron Fotheringham decided not to let setbacks slow him down. His drive and determination has inspired other athletes, and he has decided to keep improving, learning things that have never been achieved before.
How do you define Spina Bifida? Aaron says, "As an opportunity." In a wheel chair, he finds himself competing against skate boarders and BMX riders.
Aaron says, "People kept coming up to me saying, 'wouldn't it be cool if you could do a double back flip'". Aaron says, "When I did it...it felt so good!"
This is one of those motivational videos that will inspire you! Aaron is helping others live a better life, inspiring them in amazing ways, even in the midst of circumstances that would set some people back.
Are you looking to inspire your sales force? Contact us for a free consultation for motivational videos and live performance, like Aaron Fotheringham, to inspire greater performance!