The International Users event, Blackberry World 2011, featured new 3D technology on screen for 5,000 attendees at Marriott World Center in Orlando, FL.
Scott Lowry, VP of Hartmann Studios, the Atlanta based team who designed the event, says, "Our team started in January. It was a collaborative effort with RIM (Blackberry) to produce an event that conveyed its commitment to innovation."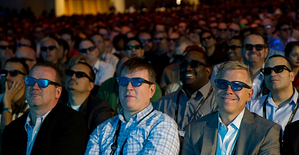 Part of this event featured live on-stage product demonstrations, featuring the "PlayBook" released just two weeks prior to the event, which has the ability to output 3D content.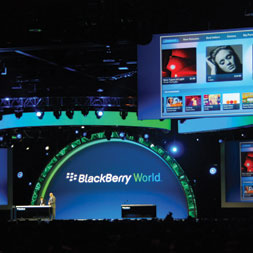 In an article from LiveDesign Magazine, writer Robyn Baker describes the production team's last minute changes only four weeks before show time to accommodate 3D.
The team at Opening Moments embraces innovation; every show has various learning curves to create elements that will play well with a live audience, based on your organizations unique culture. Are you looking for innovative ways to communicate to your audience, which may include 3D? Contact me, David Haneke, for a complimentary creative session. Or, download our free Event Production Guide.