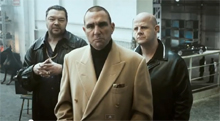 This comedy motivational video can seriously help save someone's life! It not only empowers people to save someone else's life, it's funny! Produced for the British Heart Foundation, this motivational video is memorable - a key factor for any campaign, whether it's a motivational video or a keynote address!
For more on the story behind producing this spot, particularly getting permission from the Bee Gee's to license the song "Staying Alive", see Maura Gillespie's blog. Maura also mentions working with one of Britian's best loved actors, Vinnie Jones. You gotta love Vinnie's tagline, "Hands-only CPR, it's not as hard as it looks."
Here's a related, well-illustrated article on Substance Abuse and Cardiovascular Disease.
Are you looking for comedy motivational videos for your next meeting, maybe this or another that you can put your organization logo on?
It's so much easier for your heart to relax knowing that everything is licensed! Contact Opening Moments and we can "Find a Clip" by licensing just about anything for your organization!