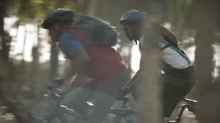 This is one of the best motivational videos that illustrate that the spirit of the Olympics in us all! Several rivaling vignettes include two adults racing on mountain bikes, two children racing in the wheat fields, two teens competing in a soccer match, two friends shooting hoops...all competing for the coveted prize!
These scenarios are capped by two Olympic basketball stars, LeBron James & Luol Deng (USA & Great Britain respectively, see Sports Illustrated blog), meeting up prior to their Olympic competition, agreeing on their ultimate goal, "For the gold!", and agreeing on the reward!
Competitive spirit is healthy among contenders; even fierce competitors can find something in common to push towards, a common goal worth celebrating!
In your organization, perhaps this motivational video sums up the Olympic Spirit required to capture the reward. Ask me about licensing this motivational video for your organization. Or perhaps you want to develop a similar scenario, without tying it to McDonald's! Talk to me about custom production for your upcoming meeting; see our custom video reel.