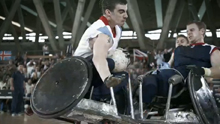 This motivational video rocks! So much attention is given to the 17 days of the Olympics on NBC, yet directly on the heels are the Paralympics, broadcast on 78 UK channels, featuring athletes that do simply amazing feats!
This motivational video states, "Forget everything you thought you knew about strength. Forget everything you thought you knew about humans. Meet the Superhumans."
The competitive environment in the promo clip features wheelchair rugby, swimming, basketball, cycling, 5-a-side-football -- a world where possibilities are endless and potential is limitless.
From the Channel 4 website promo for Meet the Superhumans:
The 90 second long film, Meet the Superhumans, will be broadcast at 9.00pm concurrently across 78 different UK television channels, including all of Channel 4's networks, ITV1, Five, Sky One, Eurosport and all of UKTV's channels. Set to the track "Harder Than You Think" by hip hop legends Public Enemy, the film showcases the abilities of some of the leading UK Paralympians, represents some of the unique stories behind the elite athletes, and shows the herculean efforts that have gone into their preparation for the Games.
The campaign was commissioned by Channel 4 marketing, and conceived and directed by Tom Tagholm, for Channel 4's in-house agency, 4creative.
Dan Brooke, Channel 4's Chief Marketing & Communications Officer said: "London 2012 is a coming of age moment for the Paralympics. This campaign will help bring a whole new audience to it and may even raise a goosebump or two along the way."
Are you looking to inspire your team with possibilities that are limitless? Contact me for a free creative session by phone, and let's get started!