Motivational videos about overcoming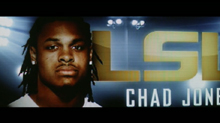 amazing odds fire me up! This mini documentary of Chad Jones' recovery from a near fatal accident tells a story of amazing tenacy, but it doesn't stop there...Jones is looking to get back on the field this year, motivated by his love for the sport, his family and particularly his young son!
From the UnionHZ Vimeo Channel:
The film details Chad's incredible rehabilitation and recovery from the horrific accident that nearly cost him his life. Comprised of intimate interviews with Chad and his trainers, as well as never-before-seen footage of his long road to recovery, the film provides an unflinching view of an elite athlete facing unimaginable tragedy and refusing to submit.
Are you looking to inspire your organization with true-life stories like this one featuring Chad Jones? Opening Moments can assist you in one of three ways: a) we will negotiate a reasonable rate for a license to brand this mini-documentary on behalf of your organization or b) our team can create a custom documentary for your organization (see what our team produced for Harvest Foundation) or c) we will contact our network of 600 nationwide Producers to locate and license the perfect mini-documentary - these Producers that are not available through YouTube or Vimeo!