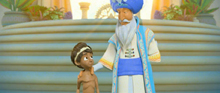 When selfishness overtakes a kingdom, one boy has an experience that not only changes the outcome of his own results, but also sets an example for everyone in the community to emulate, even under great adversity.
Sometimes, in order to achieve a goal, it requires people in your organization to move a huge rock that seems immovable. The story behind creating this short animation at Southern Adventist University creates its own inspiration:
In a faraway land, a king governed his realm so well that his people were in want of nothing. As the years passed, the king noticed his people had become lazy and selfish, so he devised a simple test to show them the value of others. As a young boy unknowingly faces the challenge, the future of the kingdom is built on the strength of his character.
In the fall of 2007, Southern Adventist University's animation students set out to create a three-minute short film based on a simple parable. This artistic venture, intended to be completed during one year, turned into a five-year journey. The result is the twelve-minute animated short, "Rock in the Road."
The scope of the project grew as the team became interested in telling a longer form story. But as students who started it graduated, and other projects were begun, finishing the short became its own "rock in the road." However, professors and students persevered, realizing the completion of the film would benefit everyone who was involved. A small, dedicated crew worked on it between other projects to finish the film at the end of the 2012 school year.
Are you looking to create a motivational animation to help your organization move a proverbial unmovable rock? We can assist you in a few ways: we can license "Rock in the Road" for your organization, or we can direct the same production team to create something uniquely designed for your organization, or we can use our own talented Opening Moments animation team for your vision; see what we created for Verizon Wireless in the motivational animation Everyday Superhero's!