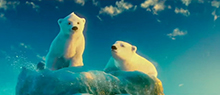 This short animated movie clip is not only humerous and fun, it also speaks to preparation as well as taking time out from important obligations - and making time to hang out with your family!
This 7-minute short animated film for Coca-Cola features the soft drink company's famous polar bears. The polar bears have been a part of Coca-Cola's ads over the past 90 years.
In this instance, the only branding is in the opening graphic. The subtlely branded film was produced by Ridley Scott - who also produced one of the most famous commericals of all time (Apple's "1984" spot) - along with his late brother Tony Scott (who passed away this last summer) and Michael Costigan, with animation by Australia's Animal Logic. It's directed by Kung Fu Panda Director John Stevenson. It was created by CAA Marketing. The film will be split into 30-second spots that will air in the UK.
Animation can tell wonderful, colorful stories that can't be done through traditional videography, and it's a tremendous tool for logos and illustrations.
Have you been thinking of capturing the imagination of your sales force using animation? Here's a few of our animations including brands, 3D animation and short stories. Contact me for a free consultation on your next project. Our click the coupon below for $100 off your next custom video, including a free first hour consultation!