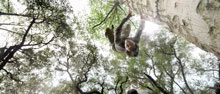 This spot is one of the most powerful motivational videos of what it feels like to roam free...anywhere you want to go...whether it's by vehicle, on land or through the ocean. Designed for Land Rover, this motivational video illustrates experiencing something wonderful!
The spot opens with four athletic Parkour traceurs who are running through the wilderness, doing all kinds of Parkour stunts...flipping in mid-air, running up the side of the tree and then flipping upside down, executing flips-sideways over rocks, running and then sliding on a sloping dirt foundation covered with leafs and then flipping upside down in a curled ball over a cliff.
Where are they going? Wherever they want! And they're having a blast in the process! Of course, there are hours and hours of practice, mistakes, maybe even a few injuries (not shown), as well as mental toughness in overcoming doubt and fears.
Earl Nightingale, in his well known classic program, "The Strangest Secret", said this about achieving the results we're after, "Success is the progressive realization of a worthy ideal" and he further explains that it's deliberately doing a pre-determined job because that's what we want to achieve. Nightingale described how we achieve this, "We become what we think about." What is your sales force thinking about? Is it their will to fulfill their dreams? Nightingale tells us that you will most certainly attain it -- if you focus on achieving it.
Much like the Parkour athlete, in order to get to the results that we want, we do things that others are not willing to do, and as a result, we go places that others don't get to go. For an exciting video about an exceptional Parkour athlete, Ryan Doyle, and his love for the challenge on the curved roofs on the Greek Island of Santorini, go here.
Are you looking to inspire your sales force to roam free, to take control of circumstances and inspire your team to keep their eyes on what they hope to achieve? Contact me for a free creative session (hit the button below). What's that all about? It's a 30 minute complimentary phone conversation where I listen to your objectives, hopes and dreams for the sales force. Then, based on the hoped-for results, I will make a recommendation on communicating that vision with your team visually. This may take on various creative forms including motivational videos, keynote speakers, or hiring a Parkour team for your meeting! Use the button below to get started.