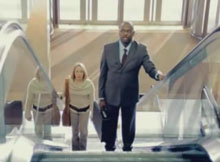 Motivational videos like the Escalator crack me up! It's particularly funny when the story is both true-to-life and absurd!
A business man and a woman are riding an escalator to the next level, and suddenly the escalator comes to a grinding halt. The man and women respond as though they've just become a victim of circumstances; the woman responds that she'll now be late for an appointment, and there is no cell phone and no one in sight to assist them. After some time, a repairman arrives on the lower level promising to fix the problem. As he begins his journey on yet another escalator to reach the two who are 'stranded' above, while he is en route, the lower escalator, too, comes to a grinding halt. All three are now frustrated, and sit down on the escalator to wait for more assistance. It's obvious that all three can just use the escalator as stairs.
As absurd as this is, the true-to-life element of this story is that, at times, we all wait for someone to rescue us. And while we're waiting, we either give up, or, and maybe I'm all alone my response, I start complaining about how difficult things are, and make all kinds of excuses for non-performance: the economy, government, impossible timelines... I think I may share the same experiences with others! It's often obvious to observers how to 'fix' the problem, but the solution is often just taking the next step!
This short motivational video makes a great point. Use the button below to inquire about licensing this motivational video.
Opening Moments has many additional motivational videos for sales meetings -- licensed and ready to go -- or customizable with your organization logo. Here's something for free during this season: I provide a complimentary one hour creative session, listening to the results you want to achieve with your people, and then proposing a creative video solution to help the sales force take the next step! Sometimes salespeople simply need a mental boost to adjust their steps, and then they're off and running! Contact me directly about the free complimentary session.