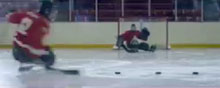 This motivational video opens early in the morning with athletes waking up across the world, speaking various excuses about how difficult it is to get going, "I am not a morning person" one athlete says.
I can only imagine the pain of a male hockey player sitting on the bench in the locker room after a workout, "My whole body hurts". And finally, in a situation where rest is so important for optimal performance, one woman lays down on the night before her competition with a sigh, "I can't sleep."
Excuses are common, but the results that these disabled athletes achieve by overcoming their excuses is entirely uncommon. We see all their practice pay off in several Paralympics events, displayed one after another.
If anyone could justify excuses, it's someone who has been injured, who has to work extra hard to move their body, especially when other parts of the body must compensate for missing limbs. And yet, these athletes persevere through the difficulties. As this short inspirational video comes to a close, the last athlete says, "I hate losing!" with the text on screen of "What's your problem? Sport doesn't care.
These excuses are no different from making a sales efforts. "I'm really tired because I didn't get enough sleep", or "Nobody picks up their phone"...just a couple excuses common to me. This inspiring motivational video puts these excuses to bed, and makes me just want to make it happen!
Tell me about the excuses that you use, and how you overcome them!
Motivation to get going when the goin' gets touch can take on many forms - from self talk to determination to being inspired by athletes who have greater challenges.
Opening Moments Media provides many customizable motivational videos, licensed and ready to go. Contact me directly about engaging our team to design a custom video for your organization, and ask about a $100 discount.