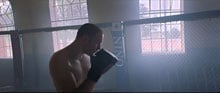 "Hard knocks" illustrates how I feel each day before engaging in sales conversations. Before I make one single call to a prospect, essentially I feel at a disadvantage, sometimes even inadequate. Then come the thoughts, "You'll never get these." "You don't have enough time to make the calls." "One call doesn't matter; do something else instead." But, once I connect with a prospect, and begin asking questions and engaging with the client, the game changes.
From ID Mobile's Youtube channel: "Fighting blind puts Lee Hoy at an obvious disadvantage. But that all changes once he gets a hold of his opponent. The playing fields are leveled and his blindness becomes irrelevant."
Isn't that the way with sales? The thoughts during idle times before engaging are the worst. When I sold books door to door, the absolute most difficult times were when I was by myself, and not with the client. During those moments away from the client, all kinds of doubts rear their ugly head. But then, when I got up, went face to face with a prospect, I could get a hold of the conversation, and do my best. This is kind of how it goes with me: during the early morning, I dance around getting warmed up, mentally dodging negative thoughts, and trying to make excuses for not making sales calls. I'm not literally blind, but I often feel blinded by my emotions, and I feel like I'm getting hit, taken down, and slammed against the protective fence.
I'm not minimizing what it's like to be blind. I highly admire Lee Hoy for selecting one of the most difficult sports to participate in as a blind athlete. For him, it's game on when he engages. For me, once I make about 5 calls, I'm on track mentally, and it's all good. Once I start communicating, like Lee Hoy when he gets a hold of his opponent, I essentially get ahold of the client, helping them achieve what they want to. Sometimes there is a long bit of sparring back and forth, other times the sale is made in 5 minutes.
I don't intend to say that you take your opponent down, but rather, you connect, ask questions, define needs, listen to their responses, offer the solution, and during this process of connecting, all your weaknesses become irrelevant.
If you are looking to kick off your sales meeting with this motivational video, contact me using the button below. If you want to design a custom video, I'll give you one hour free; it's my opportunity to make contact, ask about the results you want to achieve, and present some concepts of how to tell your story.