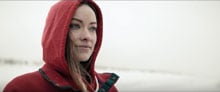 This motivational video powerfully captures perceptions that we can have about someone else who is different -- and puts it into a very concise 90 second film.

Director Reed Morano of Pulse Films opens this inspirational video with a monologue, narrarated by a young woman's voice that is somewhat choppy and disconnected, "This is how I see myself...", and the ensuing scenes show how a beautiful, attractive young woman would view herself. "I see myself as a daughter..." the visuals are a camping scene of a young lady with her father. The somewhat hesitant voice-over continues about how she sees herself... "...A sister and a best friend..." while we view the same young lady walking on the beach with her father and best girlfriend. The voice over continues "...As a person you can rely on", and we we see this young lady working as a prep-cook in a fancy restaurant. "...I see myself with someone I can share my life with..." this young lady eats pizza, sitting on the couch with her boyfriend, enjoying a movie together.
"I see myself singing, dancing, and laughing until I cannot breathe" a scene with friends at a karaoke outing together. "...And also crying sometimes..." with a private scene partially hidden behind the wall, where this young lady is experiencing a moment of tears. "I see myself as following my dreams...even if they are impossible". The scene shows this young lady running as hard as she can in some sort of personal challenge, meeting up with her father as she finishes in exhaustion on a foggy morning. Then with a long pause, the disconnected young female voice-over continues about her dreams, "especially because they're impossible."
"I see myself as an ordinary person..." this young lady is reading a book while waiting at the laundrymat, and the irregular voice continues, "with an important, meaningful, beautiful life." This young lady is on the beach, her hair blowing in the wind on a beautiful morning.
"This is how I see myself". Now this beautiful young lady looks at herself in the mirrow. Then the camera swings around to reveal the actual person looking in the mirror, a young girl who has the beautiful face of young woman with downs syndrome, and it's no longer a voice over, but it's apparent that it's been her voice all along, and she poses the question, "How do you see me?"
This is quite beautiful! I know that I personally think about body image and how people perceive me, and yet, each person is unique and beautiful in their design, made in the image of our Creator.
I respect the way Director Reed Morano presents this concept of having pre-conceived ideas... I know that I have them, too. And ironically, even though they're not the same sort of perceptions, every customer has a concept of our service, be it through our brand or a personal experience. Oftentimes, by showing the exact opposite of what is -- as in this case, contrasting something beautiful with something that we may not initially be perceived as beautiful -- it makes a powerful self-revealing illustration.