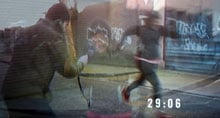 This is one of the best motivational videos that illustrate how our thoughts, positive or negative, create results, either positive or negative. Do thoughts matter?
---
This motivational video for Weight Watchers opens with a young lady who is preparing for a run. In her voice, she says, "This is an experiment...two runs, two different days. One is listening to a recording of my positive thoughts...", i.e. "I won't give in!" and another run listening to her negative thoughts, i.e. "I'm just not good enough." The voice of this young lady asks, "Which one will win?"
We hear her recorded thoughts during the two different timed runs. She continues, "They say your mindset can make a real difference. But when I was up against it, I didn't think it would."
We follow her two runs, sometimes sprinting, climbing stairs, walking, pushing, all the while listening to her thoughts, "I'll never succeed", and the opposing thought, "You can do it!"
The results? 21% faster! "Positivity wins!", followed with the closing caption, "Become what you believe", a direct reference to losing weight if the viewer believes they can, without saying those words.
In the sales field, we fight this battle every hour. At times, we think we can; and so we build ourselves up and surround ourselves with people and circumstances that help us win: making calls, working on campaigns, visiting with prospects, overcoming objections. And other times, we're up against it, and we surround ourselves with negative thoughts that we're just not good enough. Wow...21% difference in results!
Use the button below to inquire about licensing this video. Often, when we provide a license for productions, we can request the current brand to be removed, and on occasion, recieve permission to brand this with your organization.
If you're looking for a custom story about your organization, contact me directly.
---