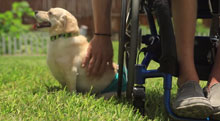 When you believe you can do something, it can be done! Here's an exceptional motivational video with an unlikely best friends, "There isn't anything we can't do."
Few motivational videos illustrate the power of a great mental attitude like this one for Kleenex. This spot opens with an injured dog dragging itself across the grass with only two working front legs. "No one wanted him. He was broken. A burden". We then see hands on the wheel of a modern rigid-frame manual chair. We see the dog in the lap of the owner in a wheelchair, with the description, "Except for one friend who gave him a "Chance". Michael the owner says, "San Antonio Pets Alive...they saved him." The new owners, Michael and his wife, adopted the dog from the shelter and named him "Chance". Michael says, "I deal with the same struggles that he deals with." "He's like my best friend...we do everything together."
And so, Michael fitted Chance's hind quarters with wheels to get around the park for walks. "When he's on his wheels, and we're running around together, he feels free." "I knew we could overcome those obstacles together." Michael concludes, "He kind of takes after me, I guess. He just knows we have no restrictions and there isn't anything we can't do."
Chance really doesn't have restrictions! He fetches, goes boating, greets his owner at the door, and even jumps off the porch into the grass!
There are several things working together for these unlikely best friends: the shared obstacles that Michael and Chance possess, a decision to make the best of the situation, the use of technology, and Chance's innate determination to do bold things, even when earlier in life he was left on the road for dead.
When I see a motivational video like this one, I can't help but think of the similarities with a sales leader and his teammates. A sales leader may not or may not bring on a sales person with visible disabilities, but everyone has strengths and weaknesses. A good leader will provide the means to compensate for potential weaknesses, empowering his team member, like Michael did with Chance; he'll believe in the teammates potential (and provide a positive environment), provide exceptional technology and most importantly lead by example. As a result, "there isn't anything we can't do together"!
Use the button below to inquire about licensing this video.
If you would like to create a true story to motivate your sales force, here's what I can do. Based on the culture of your organization (values, priorities), the challenges your sales force is experiencing (objections, competition, restrictions), and what is working with your top sales leaders in sealing the client deal (technique, technology), I can help roll that into a short video that tells a powerful story to get results with your team. Contact me.