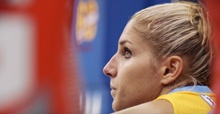 This motivational video is very kinetic in touch, sight and sound; about a relationship of a superstar and how she is inspired by her own sister.
This short motivational video for Gatorade opens with the voice of Elena Delle Donne, an American professional basketball player for the Chicago Sky in the Women's National Basketball Association. "My sister and I have always had an incredible bond", holding a photo of the two of them when they were probably 9 years old. Elena tells more of the story of her sister, "She can't hear; she doesn't see."
As she explains the differences with her sister, she explains how she communicates, "It's so much more than just talking. It's about touch and about other senses."
Elena describes how space and relationship work with this special sister, "You have to be with each other, one-on-one."
Elena then shows a picture of her sister attending one of her basketball games as a high school student, "This one was my first state title, and she was even there because she only showed up for the most important games."
"Liz has always been my strength, but going away to play college basketball meant that I had to say goodbye, and I just wasn't ready. I gave up the game I love."
"Everybody thinks I came home to take care of her, but she was the one helping me, getting me out of the worst rut of my life." Elena goes on to say about her sister, "She gives me perspective."
Elena then explains what it's like to be blind and deaf, like her sister Liz, "If you close your eyes and you can't hear anything, and wind comes across your face and blows your hair, it makes you feel a certain way. To her, it's just pure joy." She continues about Liz, "It's incredible to watch something that simple make her so happy."
Elena explains, "She brought me back." In telling about how much the communication and relationship with her sister means to her, Elena says, "I can remember the first time I touched that ball again, that love was right there."
In training, Elena says, "I'll step outside after a rough practice, feel the wind, and it's like, 'Oh, there you are Liz.'"
With images of Elena in the WNBA game, she tells the story, "Liz has taught me so much... you don't focus on what you don't have. You celebrate what you do."
Elena's experience, I believe, applies to all of us. I believe we all have down times -- times when something deeper than the game itself brings us back, whether the game is sales or relationships. Focusing on what we do have, what we've been given, rather than what we don't have, can pull us through.
If you want to tell a story like this about one of your sales team, or even inquire about licencing this story for your organization's meeting, use the button below.