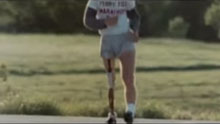 This is an amazing motivational video clip about Terry Fox, an 18 year old who ran across Canada...inspiring thousands. Cross wanted to do something dramatic to help children who had cancer, calling it the Marathon of Hope. Fox ran 26 miles every single day on an artificial leg, 137 days on the road, running 3,339 miles through rain, heat, and humidity. Fox wanted to raise $24M. He got up at 4 am to accomplish this, seeking donations across lonely expanses of highway.
Fox had incredible determination; he possessed honesty, innocence, and through this marathon, he became a hero. This is one of those amazing motivational videos...often in the midst of seeming tragedy is tremendous hope for thousands!
Looking for assistance in finding the perfect motivational video for your meeting?