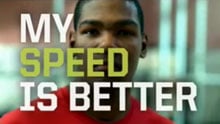 This is one of those motivational videos that will pump you up! The extreme high speed cameras, slowed to a snail pace, combined with colorized images that seamlessly blend together, as well as incrediblly beautiful lighting -- make this inspirational video believable.
This is a three part series by Agency Wieden + Kennedy in Portland, produced by Epoch Films in Los Angeles. The Talent on this spot includes: LaDanian Tomlinson, Adrian Peterson, Steve Nash, Kevin Durant, Brandon Roy, Diana Taurasi, Matt Holliday, Kyle Harrison; Ryan Powell, Landon Donovan, Hope Solo, Abby Wambach, and Pete Carroll.
The production team on this spot included over 40 people making this mini-motion-picture a delight to experience!
Are you looking for a 'trailer-like' meeting opener for your sales event? We can help you license this spot or provide you a free consultation and help you create your own!