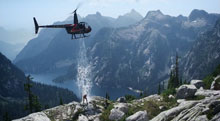 This is one of Google's annual inspirational videos summarizing the year 2014 by showing what people search for. Google can track what's important in this time through search terms for news, sports, obits, entertainment and trends.
Motivation takes on several forms, including looking back at history, and making decisions today for a brighter future.
Opening Moments provides a customizable year in review inspirational video called "Since Last We Met", which we continuously update with events of the past year; it's licensed widely for annual meetings, providing a platform for looking back at the past year as well as looking forward at what's ahead. And, it's customizable with 30 images from your organization, i.e. headlines, leaders or new services.
Contact us to license Since Last We Met, or use the button below for $100 off and assistance creating something completely unique for your meeting.