Samuel Bayer, Producer of Chrystler's 2 minute spot "Born of Fire", perhaps created a change in the nation's attitude towards the city of Detriot through this cry of celebration. It's an anthem that has not only increased brand perception for Chrystler, but has also raised the spirit of Detroit.
We see gritty urban images, some reflecting hard times, yet still feel an attitude of perseverance and survival in the face of adversity. As Shoot Magazine hails, "Also captured are city landmarks, hustle and bustle, a sense of emergence, and a feeling of determination among people in Detroit."
"What does this city know about luxury, huh?" the narrator asks. "What does a town that's been to hell and back know about the finer things in life? Well, I'll tell you - more than most. You see, it's the hottest fires that make the hardest steel."
This kind of grit is exactly the stuff that many sales organizations have embraced in persevering through two years of recession; now these companies are in the midst of turning things right-side-up. The phrase "Imported from Detroit" means something entirely different as a result of this manifesto.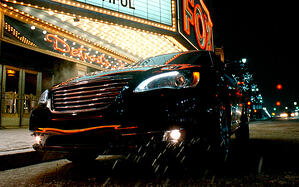 This spot is a motivational video of what hope and determination can accomplish; concluding with a surprising juxtaposition of a gospel choir with the pop singer Eminem, a sometimes hardened celebrity, we see an emotional response that suggests that even he may be ready to participate in the revival.
Are you looking to create this kind of emotional response with your sales force? We can license this inspirational video, or other's like it, for your meeting. Or help you create something entirely from scratch. Contact us for a free consultation.