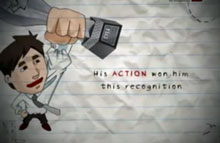 As a creative person, believing in an idea is the difference between life and death, at least as far as creating targeted projects for audiences, and helping people get inspired to take action -- believing that they can do what they set out to do.
This motivational video by Adcom is inspiring...it not only applies to the creative person, but to any situation where your belief in the possible makes something a reality. Simply animated, it's very effective.
Our team of animators at Opening Moments would love to assist you with writing, designing and delivering a similar experience for your organization. See a few of our Motion Graphics productions for our clients.