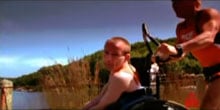 The Ironman, for anyone, whether disabled or able-bodied, is inspiring! As an athlete myself, I have so much respect for those who run, swim and bike these distances, and even more respect for the discipline required to train.
This is an amazing story about father and son, Dick and Rick Hoyt! Dick tells his perspective, "You can do anything you want to, as long as you make up your mind to do it." And yet, in this inspirational video, it's not about "me, myself and I", as many motivational leaders will tell you. For Dick Hoyt, it's "loaning my arms and legs and my feet... so my son can experience the ironman", as a disabled person.
I love this story of selfless glory, as Rick's father Dick Hoyt tells of his excitement of returning to the finish line of the IronMan with his son, not in last place, but second to last, with a huge crowd waiting, cheering, applauding...he tells of the amazing adrenaline rush.
In much the same way, each of us have an opportunity to serve our customers, our employees, our sales force, our business colleagues, making an impact on each individual in our sphere of influence! We may not have a huge crowd cheering us to the finish line, but we know that we're being cheered by a heavenly Father.
And yet, for Dick Hoyt, this is not about "I have to do this", but rather, "I get to do this!" In Dick's words, he loves to "be on the pier, waiting for the canon to go off" to start the race. He's eager to make it happen, not for himself alone, but helping his son with an amazing experience!
Can we assist you with capturing a similar story within your organization, or arranging for Dick and Rick to speak to your sales force? Contact us and we'll help make, "Yes you can!" a reality within your sales organization.
See also the major motion picture "The Finishers" based on their story.